Access Control
Magill Locksmiths are accredited access control service agents dealing with worldwide market leading suppliers.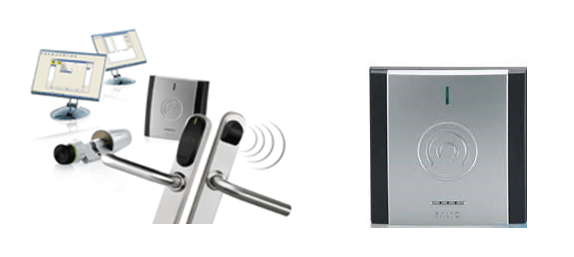 Solutions for single door applications right through to large establishments e.g. schools, apartment complexes and hospitals.
Contact us for more information on the advantages and benefits of a custom designed access control system that suits your requirements.
SALTO ACCESS CONTROL
Wireless Access Control
Salto Access Control, data on card technology.
SVN or Salto Virtual Network utilising data-on-card technology provides an extremely simple to implement high security Salto access control system suitable for all commercial applications.
The utilisation of data-on-card technology enables the building of a virtual network without the use of hard-wiring devices back to a central control unit.
Ultimately this means massive savings in infrastructure costs by eliminating the requirement to run copper wire throughout an establishment in order to have a high security Salto access control system.
Salto Access Control products for hinged doors (the primary opening method into buildings) is a battery operated unit that will open based on the credentials encrypted to the user's card, fob or blue tooth phone. Motorised opening such as auto-doors and garage doors can still be opened via Salto wired products and yet still they do not need to be hard-wired back to the central control unit.
Clients from all areas of the community, be it schools, tertiary facilities, hi-rise apartments, hotels or small business have already benefited from the advantages Salto offers over conventional access control systems. Magill Locksmiths has been instrumental in the installation of over 1,500 Salto operated doors.
Salto options;
Standalone, no audit function or time zone control, simple programming and user card operation.
SVN standard, full access control features, program locks via portable hand-held device
SVN wireless, full access control features, program updates via wi-fi wireless network
SVN BLE blue tooth enabled, full access control features, capable of enabling access remotely via blue tooth mobile phones.
Just in technology when incorporated with a NFC enabled phone enable encoding of fobs and cards remotely via a smartphone.

XS4
Say goodbye to mechanical keys.
The SALTO XS4 access control platform combines electronic door components, peripherals and software, providing tailor-made wire-free networked access control solutions.
Everything fits together, everything works.
SVN Salto Virtual Network, a network without wires
Online connections
Offline connections
Wi-Fi connections
Self-programming cards
Software programmed cards
utilising existing lock hardware for most hinged door applications
Applications are virtually limitless.
Magill Locksmiths are certified Salto technicians having installed hundreds of Salto accessed doors.
Salto inspired access control systems are ideally suited to any situation where card access is required
Examples are
schools
accommodation
small business
universities
hospitals
child care centres
office buildings

XS4 2.0
Salto XS4 2.0 is the new age of Salto, new models, smarter looks and beautiful additional options.
The XS4 mini has been designed for internal doors that require locking on an access control system but also needs some sophistication and elegance in it's appearance.
The XS4 ONE extends on the Mini sophisticated design in the long plate for external applications.
XS4mini Flyer
AElement
NEW PRODUCT UPGRADE COMING SOON 2017
Pronounced Element, AElement is the latest advanced solution from Salto for hotel doors.
AElement is sleek, minimalist and has all of the functionality of the standard Salto XS4 platform locks.
KS
Salto KS or key as a service
Cloud based access control.
Pay by the month.